Our welding island is composed of:
A Comau Smart NS 12-1.185 industrial robot with 6 controlled axes and a maximum load of 12 kg on the torch wrist.
The robot is fitted on a jib column carrying a sliding trolley with interpolated brushless motor drive and a work stroke of 15000 mm.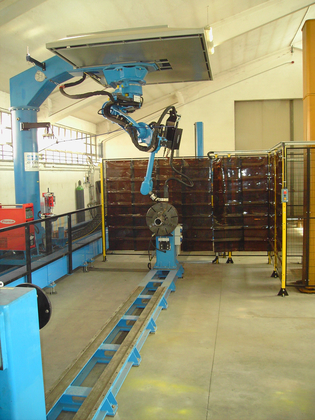 A Fronius Ts 5000 current generator with water cooling unit, a Push-Pull torch complete with automatic centring device by TCP Laser system and JOINT-FOLLOWER assembly.
The island consists of three stations:
Station 01
180° indexing fixture with two units, each with a swivelling lathe. Both units are interpolated to the robot. Max. weldable diameter …..; max. length … mm; max. weight … kg.
Any rotating body can be processed on station 01. It is also equipped for fully automated manufacturing of hydraulic cylinders and textile machine rollers.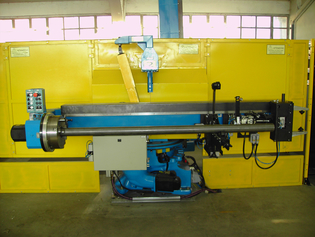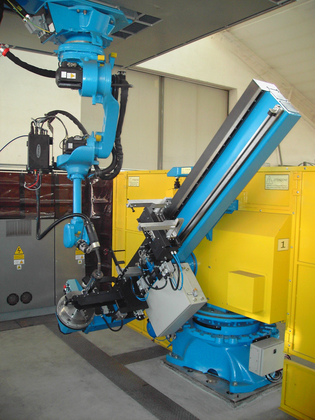 Station 02
Lathe with 2000 kg carrying capacity; length and height (between centres) 5000 and 1000 mm respectively; driven by interpolated brushless gear motor.
It is used for welding rotating bodies large rolls, tanks and complex structures. We are also equipped to weld – with special coating – valves from 3'' to 24".
Station 03
Free zone of L 4000 × W 4000 × H 1500 millimetres, to carry out coatings on flat and cylindrical parts.
It is used for flat and cylindrical parts on which special uninterrupted bead-to-bead coatings are to be made.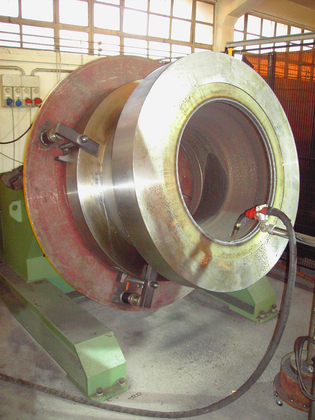 SAND BLASTING APPARATUS WITH LIFTER MOD. CAPRI 15/20 H22 NR.2
Work range:2000x2000x2000 ans capacity Kg.2000.
By means of two sliding pulley blocks on two separate sections, the parts to be treated are hung individually or in clusters, on the lifter of a air sliding carriage. During sand blasting, the lifter inside the machine rotates to expose the surface evenly to the abrasive flow. A second lifter allows to load and upload during working phases optimizing the performance of the apparatus.